The 2022 Subaru Love Promise Community Commitment Award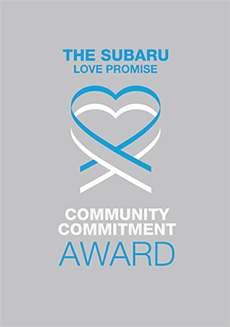 We've been nationally recognized for our dedication to our community and the Subaru Love Promise.
We're honored to receive the 2022 Subaru Love Promise Community Commitment Award. This award nationally recognizes Subaru retailers who are making the world a better place while demonstrating an outstanding commitment to supporting passions and causes in local communities. These efforts are focused in important areas such as the environment, community, health, education, and pets.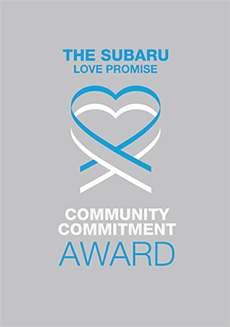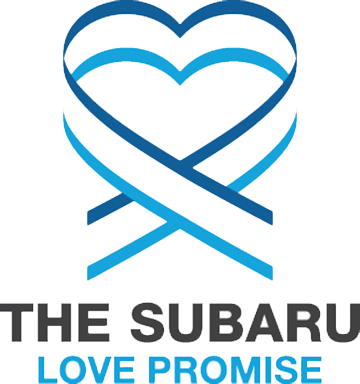 What is the Subaru Love Promise?
Subaru and our retailers believe in making the world a better place and the Subaru Love Promise is our vision of respecting all people. This is our commitment to show love and respect to our customers and to work to make a positive impact in the world.
How is Neil Huffman Subaru dedicated locally to the Love Promise?
Our Love Promise can be seen in various partnerships with local charities and non-profits. We're grateful for the opportunity, not only to be a part of our community, but to serve it as well.
Love Promise Stories from Neil Huffman Subaru
Subaru and Neil Huffman Subaru believe in making a positive impact on the communities in which we live and work. We uphold that belief through our Love Promise Community Commitment. Every month, we select inspiring stories from customers and partners from around our area who strive to support our collective commitment and feature them here
Billy Bones Finds Forever Home Thanks to Subaru - Megan D
Billy Bones is the true definition of an underdog! This beautiful, two-year-old Terrier mix arrived at the Kentucky Humane Society needing emergency medical care. Billy Bones had sustained an injury to his paw in the past and the injured paw was bandaged too tightly by someone, causing Billy to be so uncomfortable that he began chewing on his leg in an attempt to get the bandage off. Unfortunately, Billy's chewing led to more damage to the leg and he had to undergo an emergency leg amputation to save his life. In addition to his leg injury, Billy was covered in old scars and showed signs of living a very hard life prior to his arrival at the Kentucky Humane Society. Despite this, Billy was one of the sweetest dogs we had ever met and he didn't let his past define him! He learned to walk with three legs and he did it with a bright smile and a happy tail wag. It came time for Billy to go up for adoption and our incredible friends at Subaru sponsored his adoption fee so he could be adopted for a reduced adoption fee of $100. We hoped this would help Billy Bones find his forever family faster and it worked! After being on Great Day Live with the amazing team at Neil Huffman Subaru, Billy Bones was seen by the Byrd family who knew they could give him all the love he's been missing. They adopted him and we couldn't be more grateful to both his new family and to the amazing people at Subaru for helping make the connection happen. Thank you Subaru!
---
Sharing the Love w/ KY Kids & Families @ Maryhurst - Patrick B
Over the past several years, Neil Huffman Subaru has included Maryhurst as a hometown charity during their annual Share the Love campaign. The results have been extraordinary: tens of thousands of dollars have been raised to bring hope, wellbeing and resilience to local children and families. Funds raised during Share the Love have equated to 100s of hours of therapeutic sessions, dozens of college campus visits, and critically important clothing & personal care items for 50+ youth entering in the foster care system. Along the way, Neil Huffman Subaru have been active partners in the work, making personal clothing donations and visiting our facilities to learn more about our work. We love the impact our partnership is able to bring to our community!
---
Emily - Jaime T
Throughout the COVID-19 pandemic, families with school-age children have been hit especially hard. It's through the support of the community, donors, and corporations like Subaru that we at Feeding America, Kentucky's Heartland in Elizabethtown, Ky., can hold mobile food pantries and distribute food to people who just need a little help. Recently single mom Emily visited one of our mobile pantries to pick up a box of food. She is raising her three children - ages 8, 6 and 2 - while working full time. "I don't have much family around," Emily said. "I work full time and just got a promotion, but because of that promotion I lost food stamps. Food is hard for us - it's so expensive." Thank you to Subaru for helping us support families like Emily's!
---
Donation to Rhonda's Another Chance - Monda P
We can't thank you enough for your recent and timely donation of 80 fleece blankets! We networked with four other agencies who serve the Louisville, Kentucky homeless and they're very appreciative of your donation.
---
Brad Finds His Happily-Ever-After! - Megan D
Nine-year-old Brad came to the Kentucky Humane Society very sad and out of sorts. We could tell he wasn't used to shelter life and desperately wanted to go home. This awesome couple came in to meet one of our younger dogs but could hear Brad crying and howling from his kennel. They discovered that Brad had been sponsored by our friends at Neil Huffman Subaru and they asked if they could meet him. Upon meeting him, Brad quickly changed their minds about adopting anyone but him. He matches the pace of their resident dog perfectly and loved getting belly rubs. They were a perfect match! The support from our friends at Subaru made this wonderful home possible and now this amazing senior dog will spend the rest of his days being spoiled. We are so happy for Brad and so happy to partner with this amazing group who made this happy ending happen!
---
The Best Retailer in the Nation - Jerry S
Neil Huffman Subabru goes beyond being a Retailer. I helped my daughter buy an Outback from them in 2019. They all treated her with respect and made her very comfortable with the process. They treated her, and still do, as their own daughter and have continually looked out for her best interest. When I needed a new vehicle I called them and they treated me like family as well. I explained what kind of 2020 Outback I would like and got a video of one that I eventually acquired. They checked it over and made sure everything was in good shape. All I had to do was show up, practice safe distancing, sign papers and drive away. Follow-ups have been courteous and non-annoying. I am recommending them to everyone that comments on my beautiful new Outback, and even those that do not comment.
---
Neil Huffman Subaru & Norton Children's Hospital - Rebecca S
As part of the Subaru Loves to Care initiative, Neil Huffman Subaru and the Kentucky & Southern Indiana chapter of The Leukemia & Lymphoma Society teamed up to donate blankets and activity kits to Norton Children's Hospital in downtown Louisville, Kentucky. Norton Children's provides quality pediatric cancer, heart, neurology, neurosurgery, orthopedics care and more in Louisville, Kentucky and Southern Indiana -- LLS and Neil Huffman Subaru are both proud to be able to donate these comforting items to visiting children and families.
---
#InternationalWomensDay at Maryhurst - Rebecca S
Neil Huffman Subaru, part of the Neil Huffman Automotive Group, recently took a trip to tour the campus of our Subaru Share the Love Event partner, Maryhurst. On #InternationalWomensDay, we were able to donate pajamas to around 100 young women and girls who often arrive at Maryhurst with no change of clothes, let alone comfortable, properly-fitting ones. We thank Maryhurst for all they do for our community and beyond!
---
Hike, Bike and Paddle - Labor Day 2018! - Rebecca S
Neil Huffman Subaru is proud to be a continuing partner with Mayor Greg Fischer for the Labor Day edition of the Subway FreshFit Hike, Bike, and Paddle! This year's event saw nearly 10,000 participants on Louisville's historic Waterfront Park take part in the Mayor's citywide healthy initiative.
---