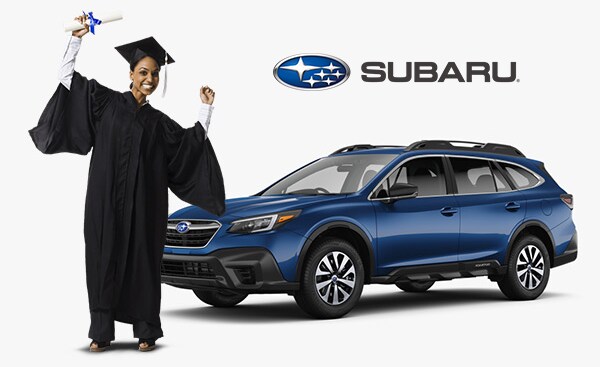 Recent and soon-to-be graduates can apply to finance or lease a new Subaru vehicle under a College Graduate Program for leases and loans approved through Subaru Motors Finance. In addition, all qualified applicants are automatically eligible for any special lease or retail offers currently available.
Vehicle Eligibility
All New and Used (up to three model years old) Subaru vehicles and all Certified Pre-Owned (CPO) Subaru vehicles, regardless of age, are eligible. All New Subaru vehicles are eligible for lease.
Customer Eligibility
+ Applicant who will be graduating within six months or who has graduated up to 36 months from date of application with an associate bachelor's, or master's degree from an accredited 2- or 4-year U.S. college, graduate school (including doctorate) or nursing school. 
Applicant must provide proof of graduation:
+ For the student who will be graduating within the next six months, either 1) a letter from the registrar's office stating graduation date and type of degree or 2) copy of transcript that states current classes, credits earned, and credits needed for degree.
For the applicant who has graduated within 36 months from date of application: a copy of the diploma confirming graduation date or copy of final transcript that states type of degree and date earned. No derogatory credit history, past or present.
+ For joint applications, both applicants must meet all program eligibility requirements.
+ Program eligibility is subject to Subaru Motors Finance's (SMF's) review of all documentation and verification before funding; additional documentation may be required.
Employment/Income
+ Applicant must have proof of employment and income. If employment has not yet started, a letter from the future employer that shows a start date within 90 days of the application date and salary is required, along with verbal verification from current or future employer.
Product Parameters
+ Retail: All New, Used (up to three model years old) Subaru vehicles and all CPO Subaru vehicles are eligible.
+ Maximum term is 72 months and the maximum booked LTV with aftermarket is 125%.
+ Lease: All New Subaru vehicles. Maximum advance is 100% of MSRP up to 48 months.
+ Maximum Amount Financed or Maximum Capitalized Cost is $35,000.
+ The maximum approved Payment-To-Income (PTI) is 15%.
Pricing
+ Standard rates apply. Retailer participation in accordance with SMF policy.
+ Program may be used with applicable SMF subvented programs and will be priced as a tier 2 if it otherwise doesn't qualify for a higher tier. See current program sheet for details and markup guidelines.
When submitting your applications on Dealertrack®2 or RouteOne®3, please select the "College Grad" option on your product menu. After entering your application, please contact your Underwriter with supporting documents.
1 The College Grad Program cannot be used in conjunction with the Deferment, Hail Damage or Reacquired Vehicles
Make an Inquiry
I hereby consent to receive autodialed calls, pre-recorded telemarketing calls, and/or text messages relative to sales and service matters, from Neil Huffman Subaru at the telephone number listed above. This consent includes my wireless number, if applicable and I understand that message and data rates may apply. Consent to these terms is not a condition of purchase. Text STOP to opt-out.