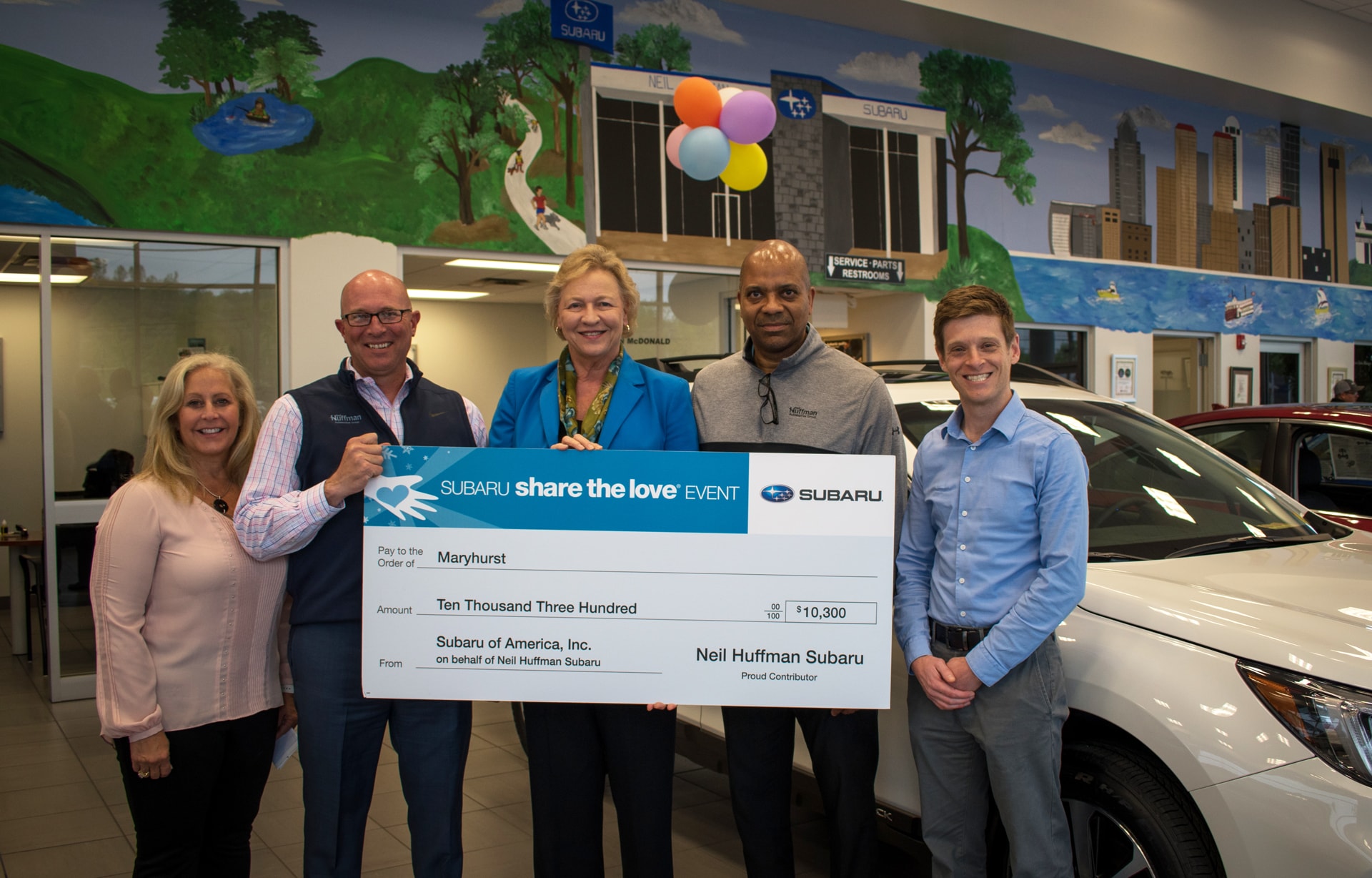 Pictured left to right: Kim Huffman, Dave Nelson, Judy Lambeth, Jay Cross, Micah Jorrisch.
NEIL HUFFMAN SUBARU DELIVERS SUBARU OF AMERICA, INC. DONATION TO LOCAL CHARITY MARYHURST AS PART OF 2018 SUBARU SHARE THE LOVE® EVENT
LOUISVILLE, KY, May 1, 2019 – Subaru of America, Inc. ("SOA") and Neil Huffman Subaru today presented a check for $10,300 to Maryhurst. Maryhurst was a local beneficiary in the 2018 Subaru Share the Love Event.
From November 15, 2018 to January 2, 2019, customers who purchased or leased a new Subaru vehicle could select from a list of charities to receive a donation of $250 from SOA. For the third year in a row, there will be no cap on the total donation from Subaru of America to its Share the Love charitable partners. At the culmination of this year, SOA and its retailers hope to exceed a grand total of $140 million donated since the creation of Share the Love to celebrate the eleventh anniversary of the event.
For 2018, SOA selected the four national charities: ASPCA®, Make-A-Wish®, Meals On Wheels America® and National Park Foundation. Subaru retailers could also elect to add a local charity and Neil Huffman Subaru selected Maryhurst as its hometown charity.
Kim Huffman, Neil Huffman Auto Group Managing Partner, Dave Nelson, Neil Huffman Subaru General Manager, and Jay Cross, Neil Huffman Subaru Brand Manager presented the check for $10,300 to Maryhurst's CEO Judy Lambeth and Vice President of Development and Communications Micah Jorrisch.
Follow Neil Huffman Subaru on Facebook: https://www.facebook.com/neilhuffmansubaru
Join the dialog: https://twitter.com/huffmansubaru #sharethelove