9 Benefits of Buying a Sports Utility Vehicle
You see more and more SUVs on the roads these days. In fact, many auto manufacturers are cutting production of sedans and sportscars in favor of making more SUVs, crossovers and trucks. Why? There are plenty of benefits of buying a Sports Utility Vehicle.
Here are just nine benefits of buying an SUV:
Better Visibility
Sports Utility Vehicles (SUVs) are designed as a taller, more upright vehicle. This design provides taller windows and a higher seating position, enhancing the visibility from the driver's (and passengers') seat. Drivers have a better view of the road ahead and the sides and rear of the vehicle. In many cases, drivers can easily see over typical sight line obstructions, such as the car next to you that pulled up too close at the stop light. This allows you to be sure there's not a car coming before you turn right. Other advantages to clear visibility include confidence changing lanes on the interstate, finding open parking spots and seeing potholes in time to change lanes to avoid them.
Some SUVs have even more features to further enhance your vision. For instance, the Subaru Ascent features 360 Degrees of Visibility. The available Smart Rear-View Mirror uses a dedicated camera to maintain visibility when the view behind you is obstructed, while a standard Rear-Vision Monitor provides extra safety when you put the vehicle in reverse. And an available 180-degree Front-View Monitor gives you the same confidence that the path ahead is safe and clear.
Carry More People Efficiently
One of the reasons people choose an SUV is for the number of passengers they can carry. Some SUVs provide a third row of seating (depending on options and configurations), enhancing the ability to haul the whole team to practice. An additional benefit is room for more than two child safety seats. With newer laws requiring children to stay in safety seating longer, more parents are choosing SUVs to hold multiple child or booster seats.
Whether carting the kids to the theme park or taking a group of friends for a night on the town, the Subaru Ascent provides roomy seating for up to eight people (depending on configuration). With over 153 cubic feet of passenger room, extra wide doors and underfloor storage, Ascent offers very comfortable accommodations for the whole crew.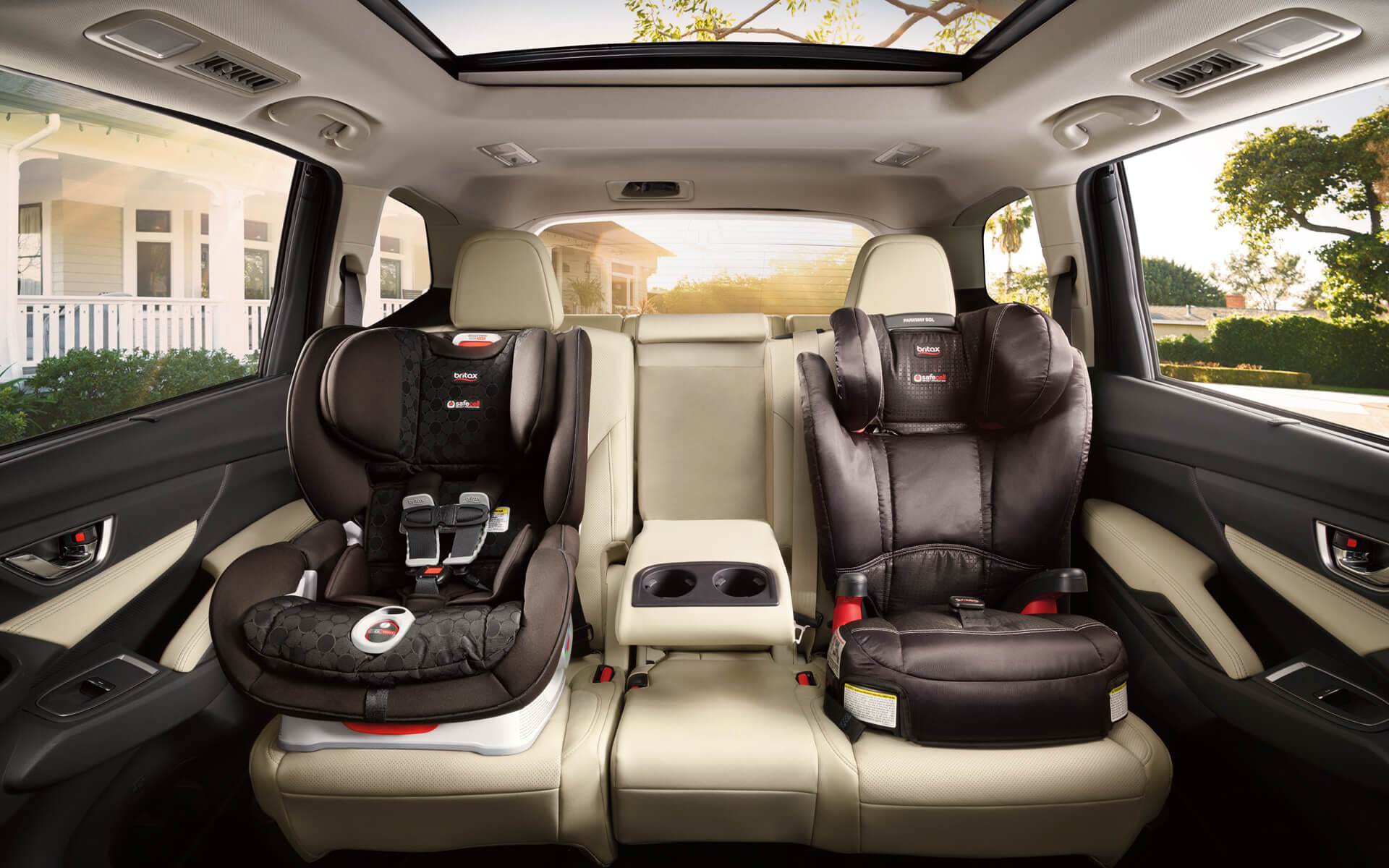 Room for Pets
As your family grows, you realize Buddy needs his own space too. With extra seating capacity, your four-legged friend can come along with you on all your adventures and be safely strapped in with your other passengers. Plus, there's room for all the dog food, treats, kennel, toys and other stuff that needs to ride along. Most SUVs offer these great pet-friendly features:
· A rear lift gate allows your dog to jump in and out of the vehicle easily. It also makes for more convenient loading in/loading out of pet carriers, crates and kennels.
· Fold-flat seats create a spacious area for your dog to sit while keeping the actual surface of the seats clean from hair or scratches.
· An airy cabin is especially beneficial for large dogs to stretch out.
· Rear cargo-attachment ringlets help keep carriers and crates from sliding around.
· A containment barrier/divider keeps your dog from jumping up to the front seat while the car is in motion.
· A low ride height helps dogs — especially older ones — get in and out with ease.
· Rear climate control keeps your dog cool and comfortable in transit no matter what the weather is like.
· A sunroof brings fresh air and sunlight so you can keep your dog from hanging its head out of the window.
· Underfloor storage gets your things out of the way so your dog can ride more comfortably.
Subaru caters to dog owners with a pet-friendly design and huge assortment of accessories and add-ons that include everything from seat and cargo covers to unique storage solutions -- and everything in between. The Ascent includes all of the above features, plus extra-wide rear door openings and an automatic rear hatch to make bringing Buddy even easier and more enjoyable for everyone.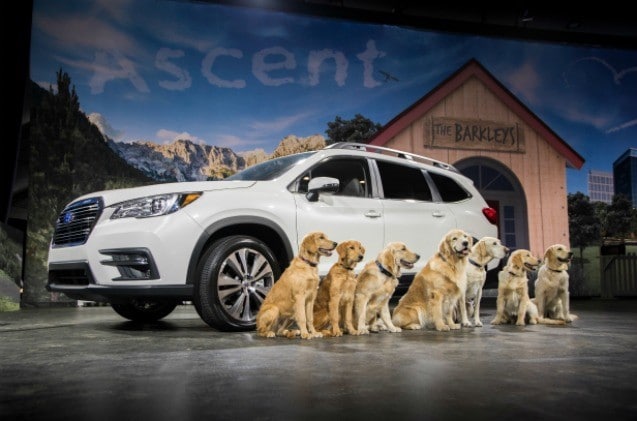 (Image Source: PetGuide.com)
Carry More Cargo
Besides carrying people, carrying cargo is one of the major benefits of owning an SUV. With folding rear seats, taller heights and large volumes, SUVs are perfect for hauling all of your stuff. Whether it's the soccer gear and drinks for the big game, or all of the luggage for the family trip, SUVs offer the versatility to stow and carry your load.
The Subaru Ascent features underfloor storage and flexible cargo and seating layouts that allow up to 86.5 cubic feet cargo. Ascent seating folds virtually flat, revealing a floor large enough to carry home your new 70" high definition TV. And if that's not enough room, Ascent is one of the only vehicles in its class with standard raised roof rails and an extensive line of Thule® racking accessories. Ascent lets you carry a wide variety of cargo for all your family's expeditions.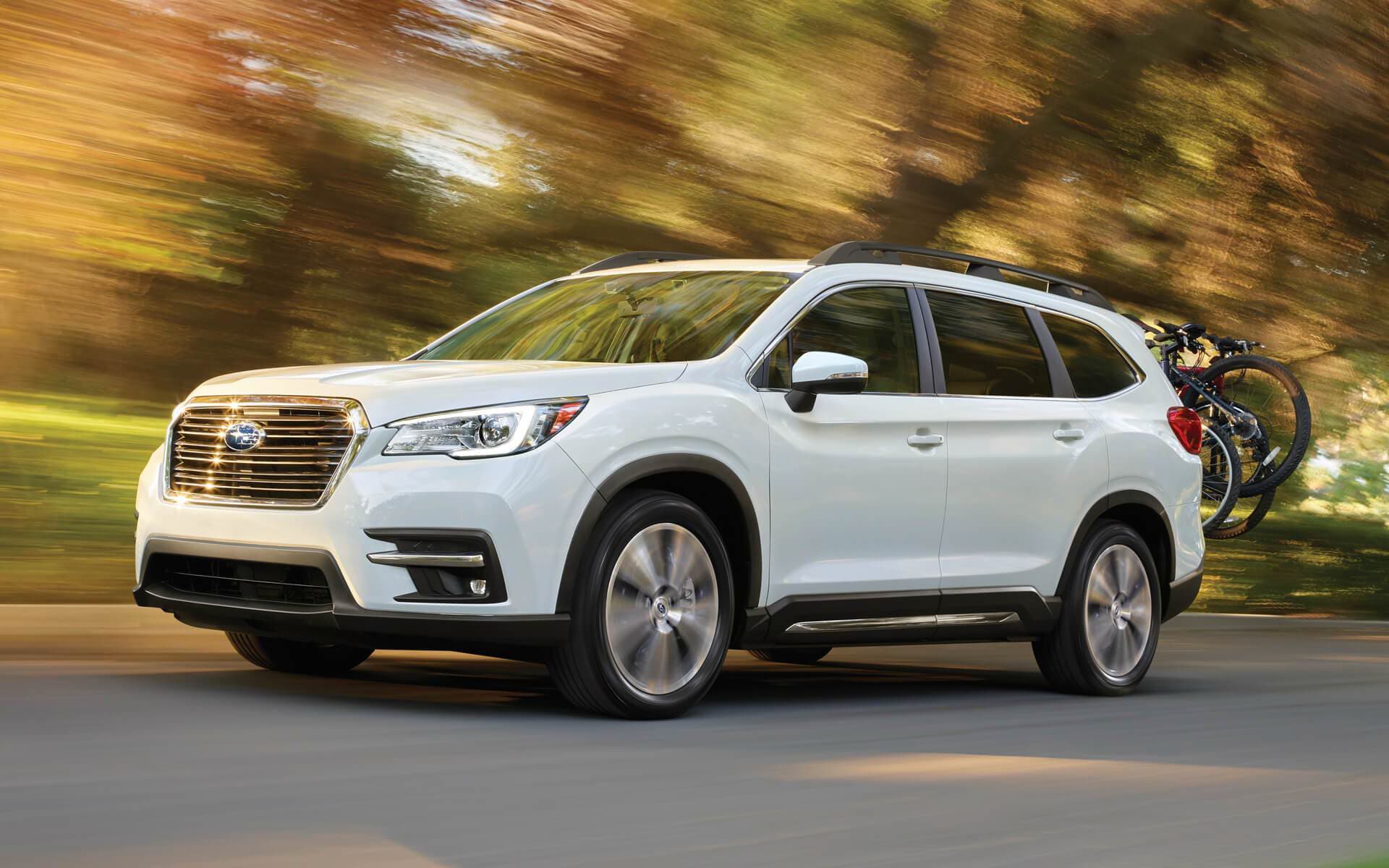 Outstanding Gas Mileage
Today's SUVs feature more horsepower in smaller displacement engines and continuously variable or 8+ speed automatic transmissions. This improves fuel mileage while maintaining the horsepower and performance you need in your SUV. Gas mileage in today's SUVs is rapidly approaching that of large sedans.
The Subaru Ascent features up to 27 mpg*, with the direct-injection turbocharged 4-cylinder Boxer engine and CVT (continuously variable transmission). Two hundred and sixty horsepower and 277 foot-pounds of torque provide all the cargo hauling and towing power you need, with an outstanding range of up to 500 miles per tankful of fuel**.
Tow More
If you love snowmobiling, biking, fishing or camping, chances are you'll need to tow occasionally, if not regularly. Most SUVs come equipped with or are available with a towing package.
The Subaru Ascent offers up to 5000 lbs. towing capacity (with properly hitch-equipped), which is usually enough for your weekend adventures! The Ascent offers the most towing capacity of any Subaru vehicle. Along with an available Class III trailer hitch, 277 lb-ft of torque and a wide selection of racking accessories, you can bring along all the gear you'll need for all the places you want to go.
Off-Road Capability
While the family sedan is confined to the streets, an SUV offers increased ground clearance and 4-wheel or all-wheel drive capabilities, allowing for off-road use. Whether negotiating a desert trail in search of the perfect campsite or simply backing the load of mulch into the garden, SUVs offer far more off-road capability than most other family vehicles.
The Subaru Ascent features Subaru-exclusive Symmetrical All Wheel Drive and 8.7 inches of ground clearance and X-MODE® standard. X-Mode provides traction control optimized for each type of driving surface. It also has Hill Descent Control for confidence on difficult grades.
Better Capabilities in Bad Weather
Even if you never use your SUV off-road, you want to feel safe driving even in the worst weather. The same features that make SUVs capable off-road make them better on the road in bad weather. With nearly every SUV equipped with 4-wheel or All-wheel drive, antilock brakes, traction control and a host of other modern safety features, most SUVs provide better traction and braking capabilities than typical sedans in bad weather. Taller vehicle heights and upright seating provide greater visibility to help the driver see better and prepare for oncoming problems.
These features can help get your family home when caught in a snowstorm, but you should always drive carefully and be aware of changing conditions and of your vehicle's limitations.
Subaru Ascent comes with standard EyeSight® Driver Assist Technology. EyeSight monitors traffic movement, optimizes cruise control and warns you if you sway outside your lane. The Pre-Collision Braking feature can even apply full braking force in emergency situations, helping you avoid or reduce frontal impacts.
Ascent also has available Active Safety, a suite of features that work together to keep you and your family safe. Available Rear Cross-Traffic Alert[13] helps warn you of traffic approaching from the side as you are backing up. And with available Reverse Automatic Braking, the Ascent can even stop itself to help avoid objects behind you[14]. Blind-Spot Detection [13] warns you with a visual indicator in each side mirror if it senses a vehicle in your blind spots.
And LED Steering Responsive Headlights and High Beam Assist allow for a clearer look around every corner. LED Steering Responsive Headlights actively track in the direction of a turn to enhance visibility. High Beam Assist automatically switches the headlights between the high and low settings when an oncoming vehicle is detected, enhancing safety for both you and other drivers on the road.
More Family-Friendly Features
The added elbow room and cabin space are huge family-friendly features of an SUV. But in addition, many come loaded with features to keep your gang entertained and content on a long road trip. The Subaru Ascent features an available 54-inch power tilt/sliding panoramic moonroof to make the already roomy cabin feel even more open and bright.
Available Wi-Fi connectivity in the Subaru Ascent allows passengers to stream favorite online content online using the 4G LTE Wi-Fi hotspot. Up to eight USB ports keep all those devices charged and connected. Subaru STARLINK is available to make every trip in your Ascent even more enjoyable. With iPad®, the whole family can stay connected, engaged and entertained. And with 19 cup and bottle holders, everyone's beverage is secure and close at hand.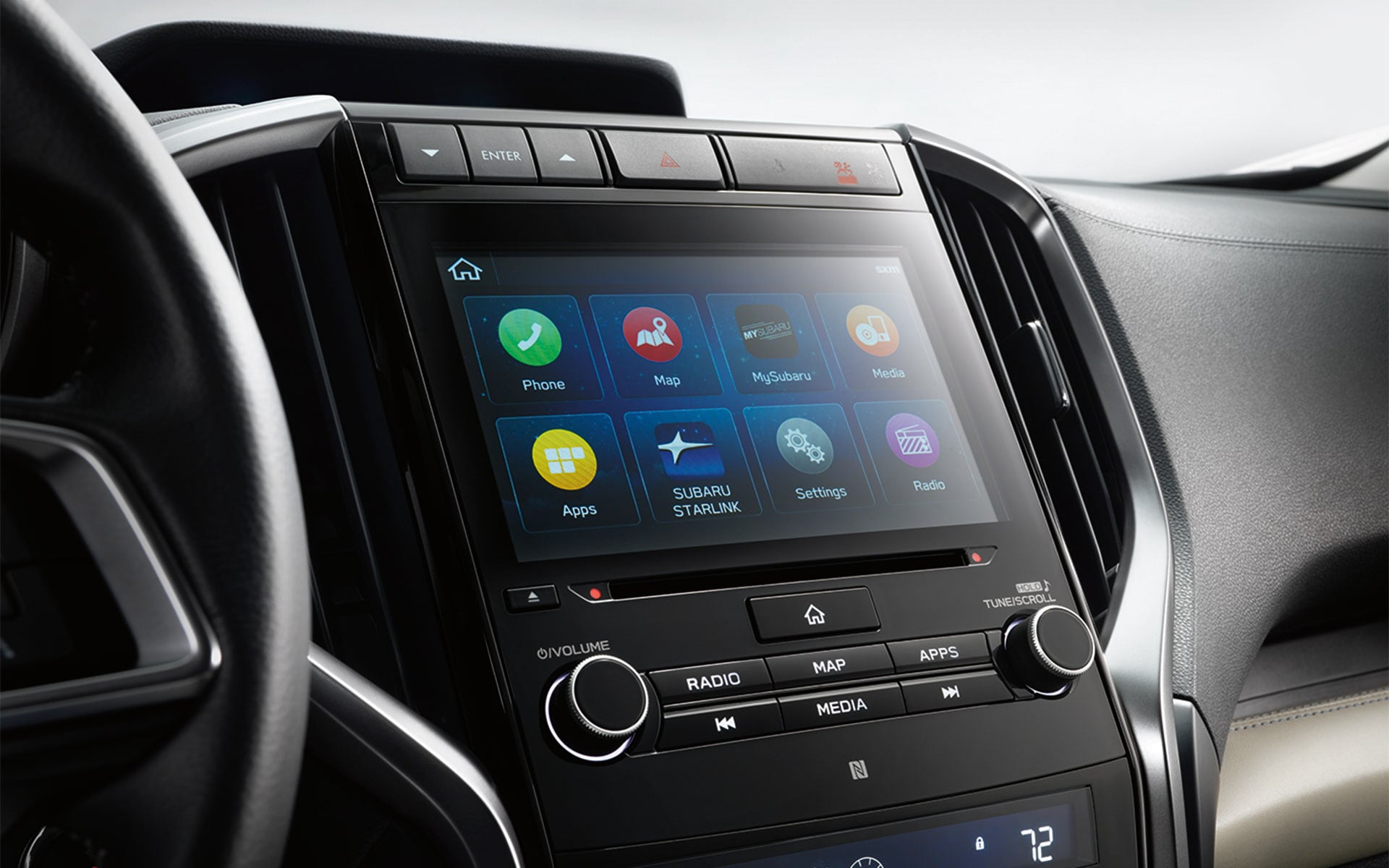 If you're ready to check out the Subaru Ascent, stop by Neil Huffman Subaru in Louisville! We'll be happy to show you all the benefits of owning an SUV.
* EPA-estimated fuel economy. Actual mileage may vary. Actual mileage will vary.
** Based on EPA-estimated highway fuel economy and a full tank of fuel. Actual mileage and range may vary.
13 Blind Spot Detection, Lane Change Assist, and Rear Cross Traffic Alert are systems designed to assist the driver by monitoring the rear and side areas of the vehicle during a lane change or reversing and are not a substitute for safe and attentive driving.
14 Reverse Automatic Braking is a system designed to assist the driver by detecting objects to help avoid a possible collision when the vehicle is moving in a reverse direction. It is not a substitute for safe and attentive driving. System effectiveness depends on many factors such as vehicle maintenance, weather and road conditions. Always exercise caution and use vehicle mirrors and Rear-Vision Camera when backing up. See Owner's Manual for complete details on system operation and limitations.